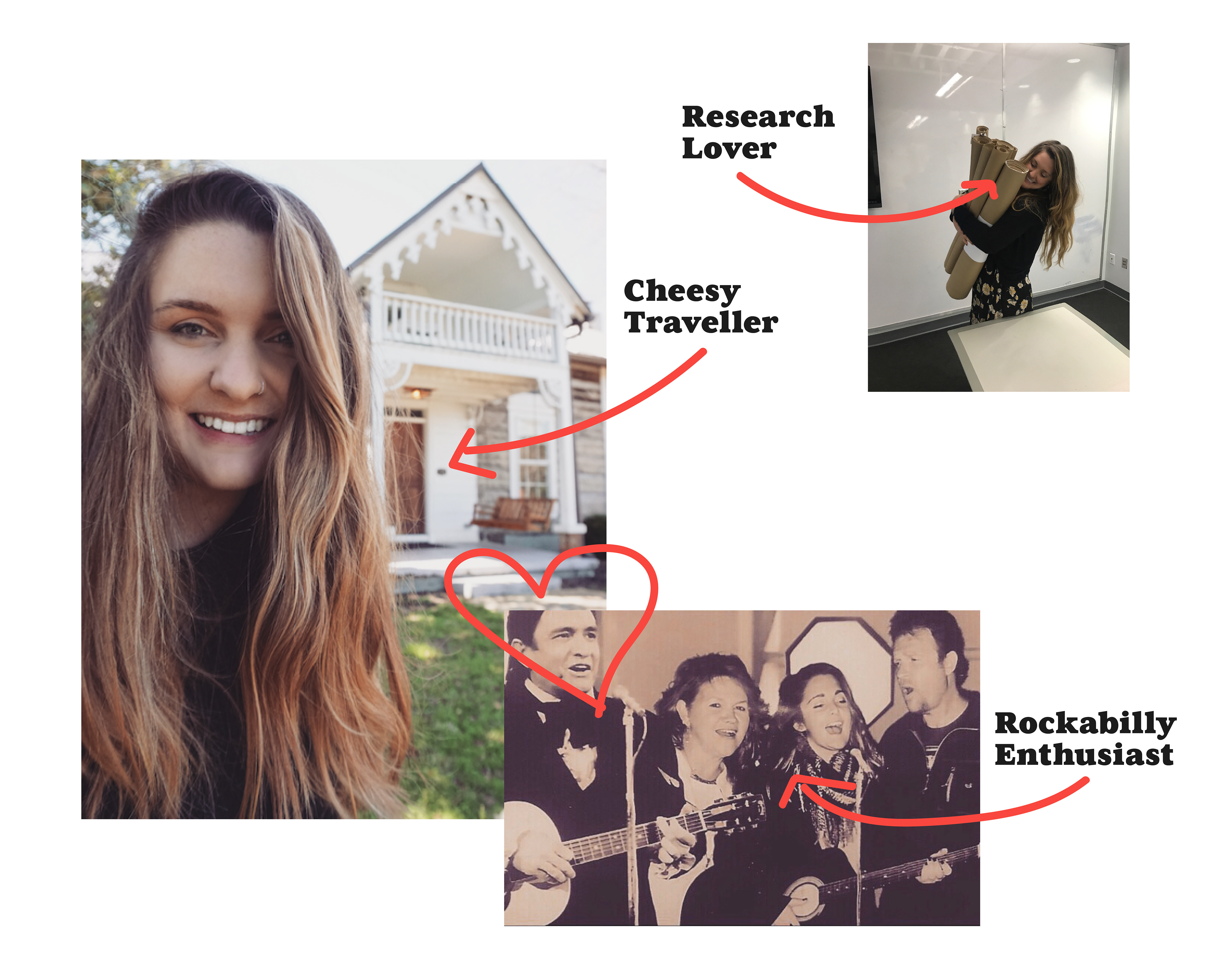 I am Lindsay Courtney. Growing up, my creative outlet began with scrapbooking. With an entire room in the basement dedicated to my textured papers, pens and embellishments, I was lucky to have a pre-screen childhood filled with making. Oddly enough, I have no physical proof of my scrapbooking skills because every project I began and finished was a gift for someone else. I didn't realize it at the time, but this was the beginning of my innate desire to put others first and create ways for them to visually capture their memories and experiences. This intrinsic motivation to make for others is a passion that has provided me an extremely fulfilling career as a human-centered designer.
Without hesitation or doubt, I dove right into the field of graphic design. While a student, I was a graphic design intern for Purdue's Housing and Food Services, which gave me experience in providing for a variety of on-campus clients and brands while also allowing me to explore and expand my technical and strategic skills in design. After graduating, I spent three years as a graphic designer for a real estate developer, a company that ignited a passion for fast-paced, multi-disciplinary environments. In these environments, I feel a responsibility to extend and expand the value of design in corporate-driven culture by building experiences into thoughtful contributions to the larger systems and processes of the entire organization.
While a practicing designer, newfound free time that I did not previously have as a student, revealed excitement in learning new skills and putting love into hobbies and interests. I suddenly realized that I am a rockabilly music enthusiast. Specifically, I deeply enjoy listening to songs of the 1950s and 60s, reading biographies of Johnny Cash, Elvis Presley and Jerry Lee Lewis, and then cross-analyzing it all to build fascinating backgrounds behind the energetic records I have grown to love. I find it extremely important and beneficial to consider rest and new experiences outside of work as part of the creative process. Therefore, when needing a spike in inspiration and energy, I often travel to Tennessee to be closer to this music and its history that is rooted in exciting human expression.   
After three years in the field, I made the decision to prioritize learning again by pursuing a Master of Fine Arts degree at Savannah College of Art and Design in Savannah, Georgia. This challenging program has pushed me to continuously evaluate my design process and values in order to align myself with what kind of designer and person I strive to be. Within a year of graduate school, harsh and unrealistic expectations that I had built for myself lead to me becoming burnt out and unhealthy. This experience inspired my dissertation research and efforts to focus on approaches to working that fuel productivity by prioritizing and utilizing the strengths and vulnerabilities of humanity. What I have found is not only a renewed desire to work hard and innovate, but also a way to satisfy that deep-rooted sense of purpose I feel when caring and designing for others.   
I will graduate with my master's degree in May of this year. While my requirement to learn will conclude, my desire to learn is now a permanent part of me. I look forward to dedicating my knowledge and passion to the evolving field of design. Most importantly, I look forward to exploring the attitude on life that my parents have instilled in me. My mother, the creative caretaker and my father, the pragmatic go-getter, have grounded me in realities of hard work while propelling me so high that everything feels possible.