How might we explore the world without destroying it?
Understanding what sustainable tourism means and how to bring it to the region of Poros and Troizinia-Methana, Greece.
This work includes preliminary secondary and primary research insights that will inform on-ground prototyping and workshopping with Greek partners, locals, and municipalities. Stay tuned for updates and insights from our two-week design sprint taking place in June-July 2021. 
We are at a unique, pivotal time when it comes to tourism. Due to COVID-19, many of us have stayed home and have limited our travel for well over a year. We respected it as the responsible thing to do for one another. However, as borders around the world begin to open again and a surge of pent-up travel demand opens like a dam releasing water, that sense of responsibility may fade from the forefront of our actions and behavior. 
Due to this pause in travel, we have a unique opportunity to reassess what tourism looks like today and build a better model that respects the environment, cultures, and communities involved.
Therefore, in this project, we strive to reimagine and build a new model of sustainable tourism in the areas of Poros, Troizinia-Methania, Greece. This region is located only 30 nautical miles from Athens, which is a 2-hour drive by land, 1-hour ride by boat. In addition to proximity, this region is overflowing in natural treasures, historic, ancient sites, unique landscapes, and locals with incredible lives and stories.

It's a hidden treasure that deserves to be shared, yet protected. 
Through both secondary and primary research, we have created a meaningful approach to explore this topic and build viable solutions.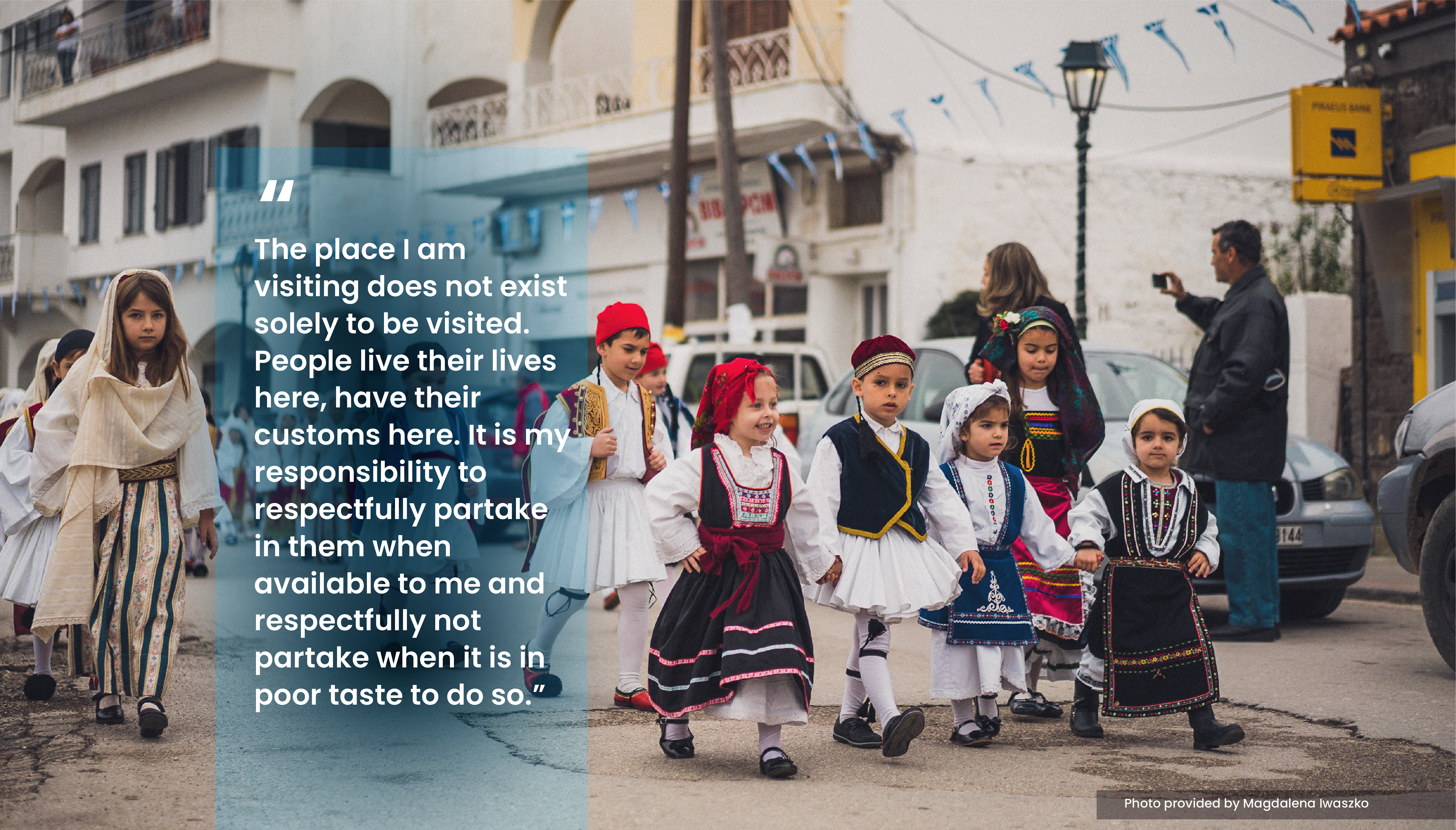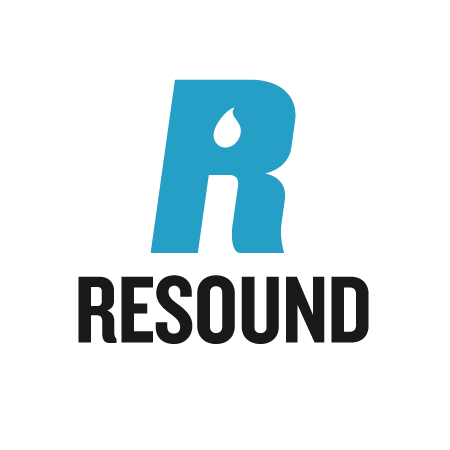 Project Resound is a social design consultancy that delivers strategic and design capabilities to beneficiaries around the world. It collaborates with like-minded organizations to create solutions that are people-centered and purpose-driven. 
It recruits creative volunteers from many disciplines to support social causes in exciting places around the world. This includes talented professionals and students with skills in business strategy, marketing, project management, writing, sound design, graphic design, advertising, service design, photography, illustration, sequential art, film & TV, motion media, interactive design, UX, industrial design, fashion design, interior design, architecture, and the fine arts.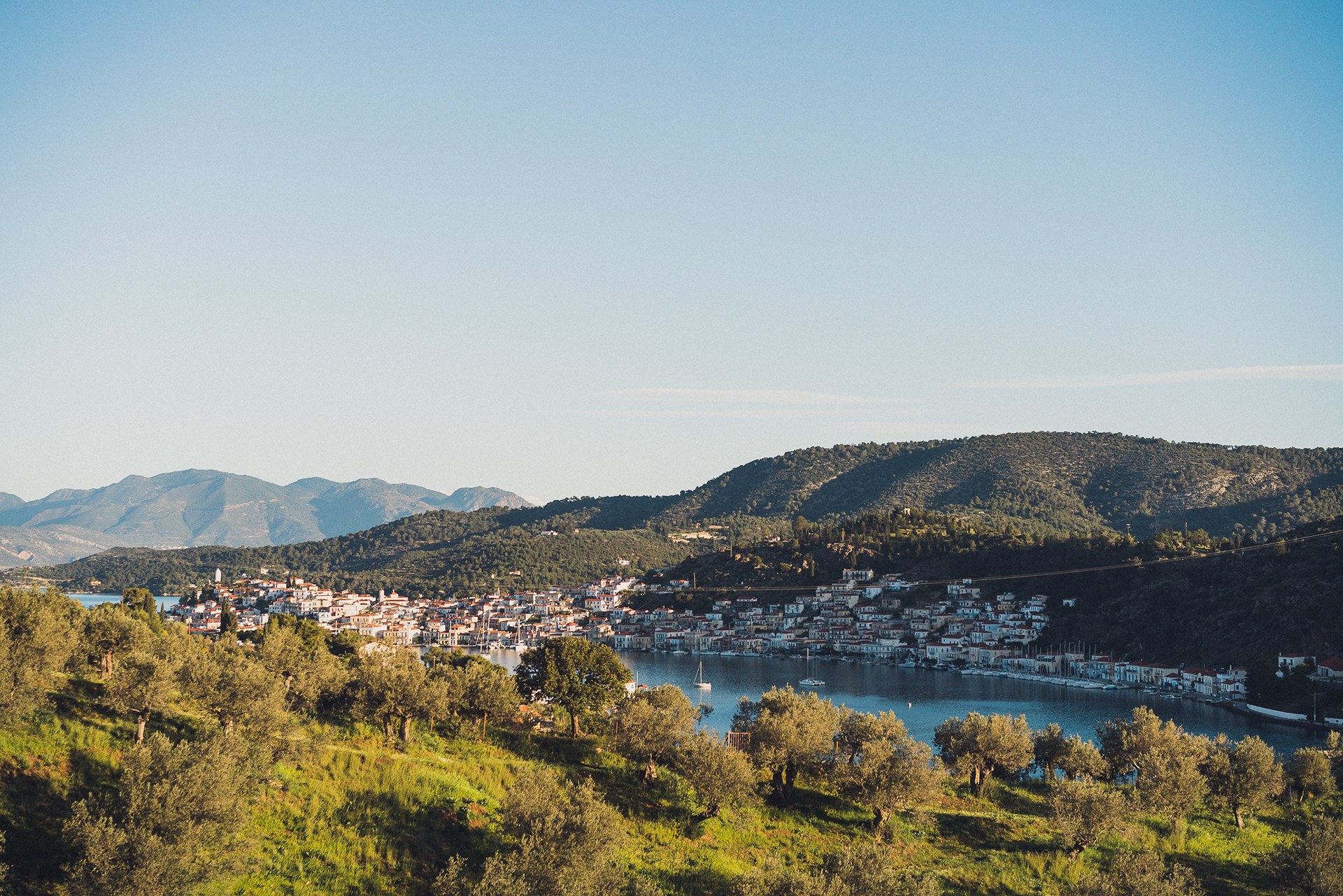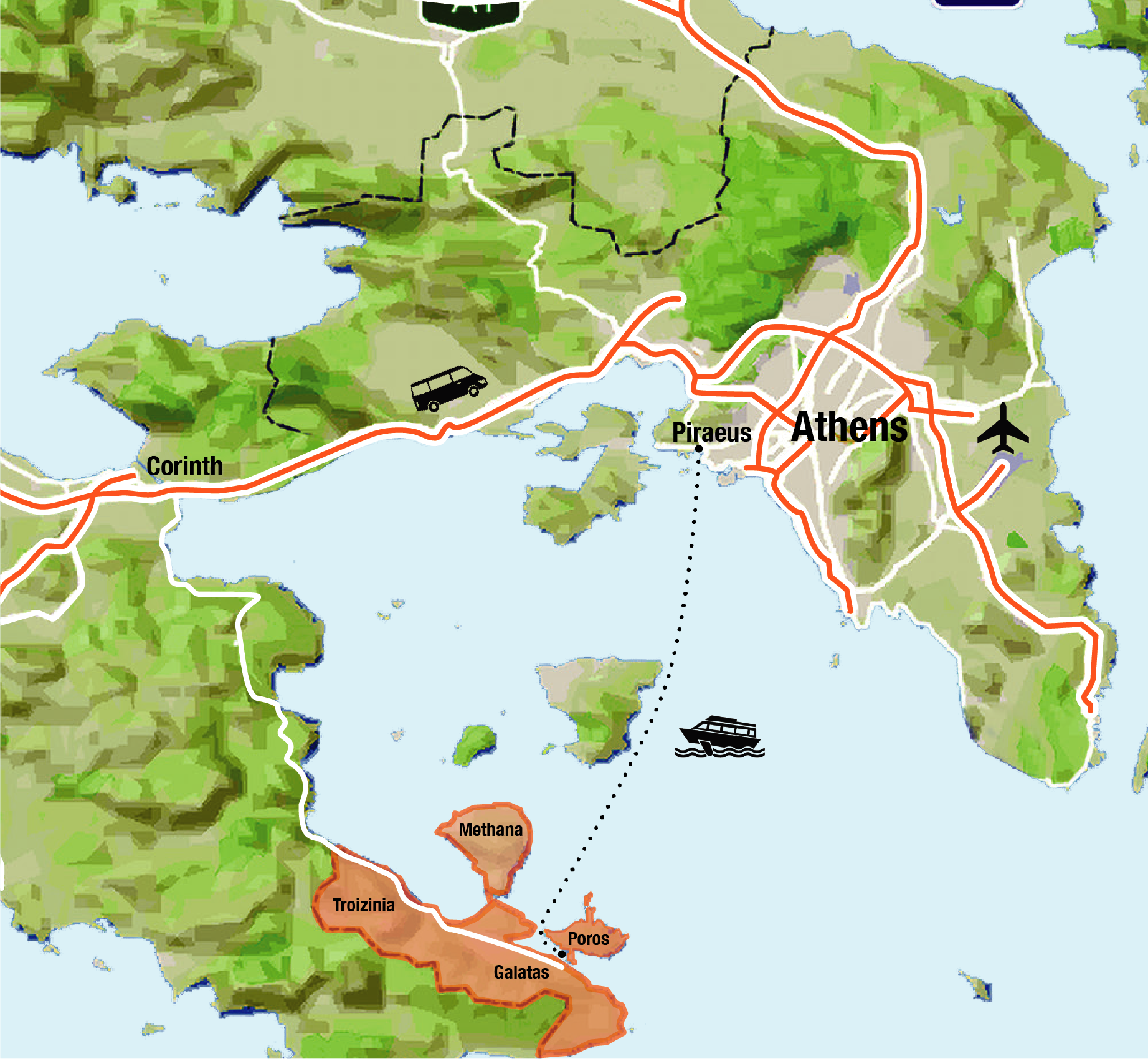 To produce a vibrant, successful Sustainable Tourism model, Project Resound and it's partners will follow a four-phase process:
Phase 1:
  Discovery (contextual research)
Phase 2:
Definition (analysis and synthesis)
Phase 3:
Development (ideation and rapid prototyping)
Phase 4:
Delivery (documentation and plan of implementation)
After developing a better understanding, we began primary research and contextual inquiry by planning, conducting and recording

20 hours of in-depth ethnographic interviews of Greek stakeholders. Interviewees included private citizens, business owners, and public servants.

They helped us learn more about particular expectations, experiences, services, operations, processes, and concerns, as well as about attitudes, problems, needs, ideas, and the environment surrounding the subject of tourism.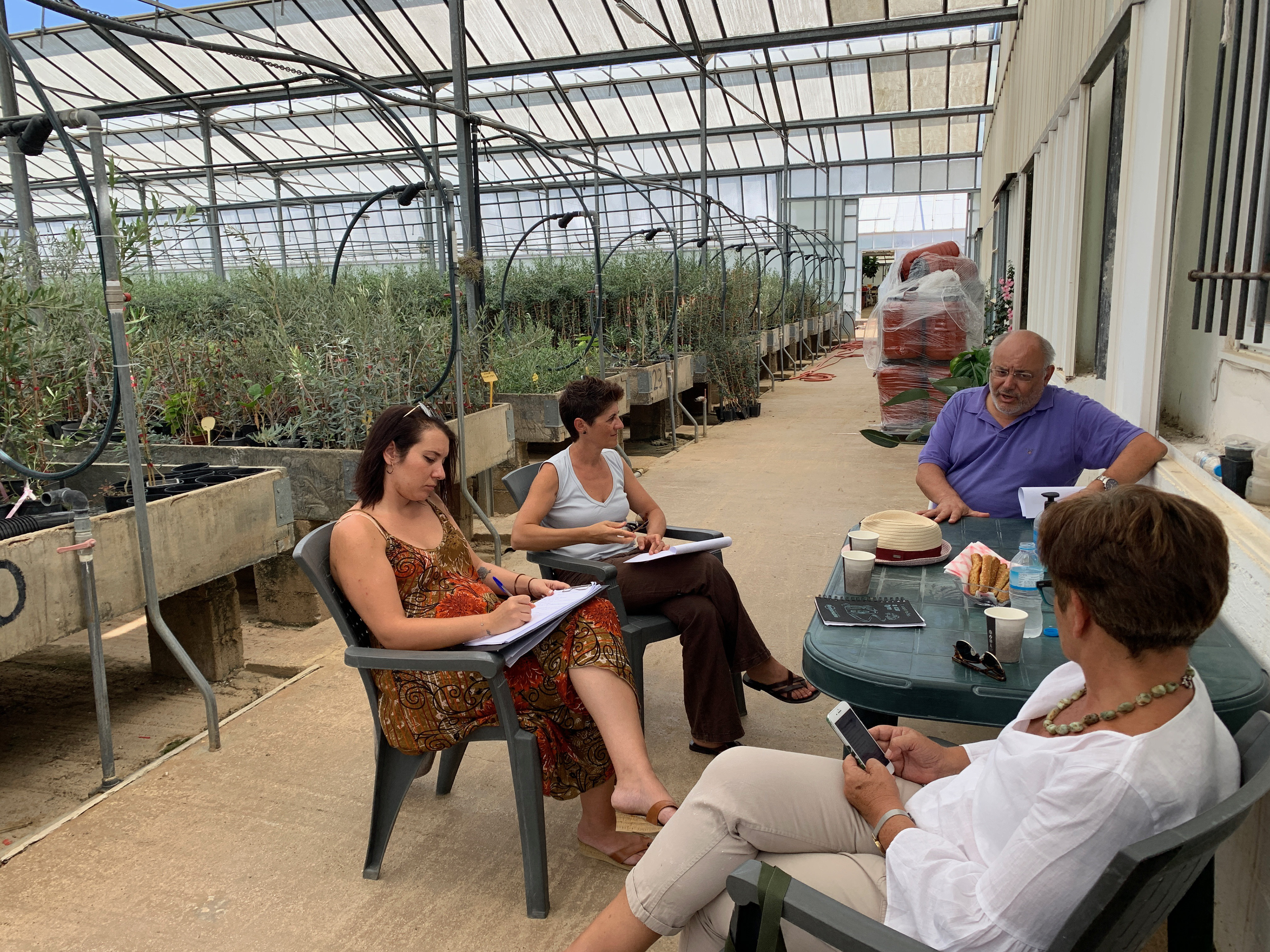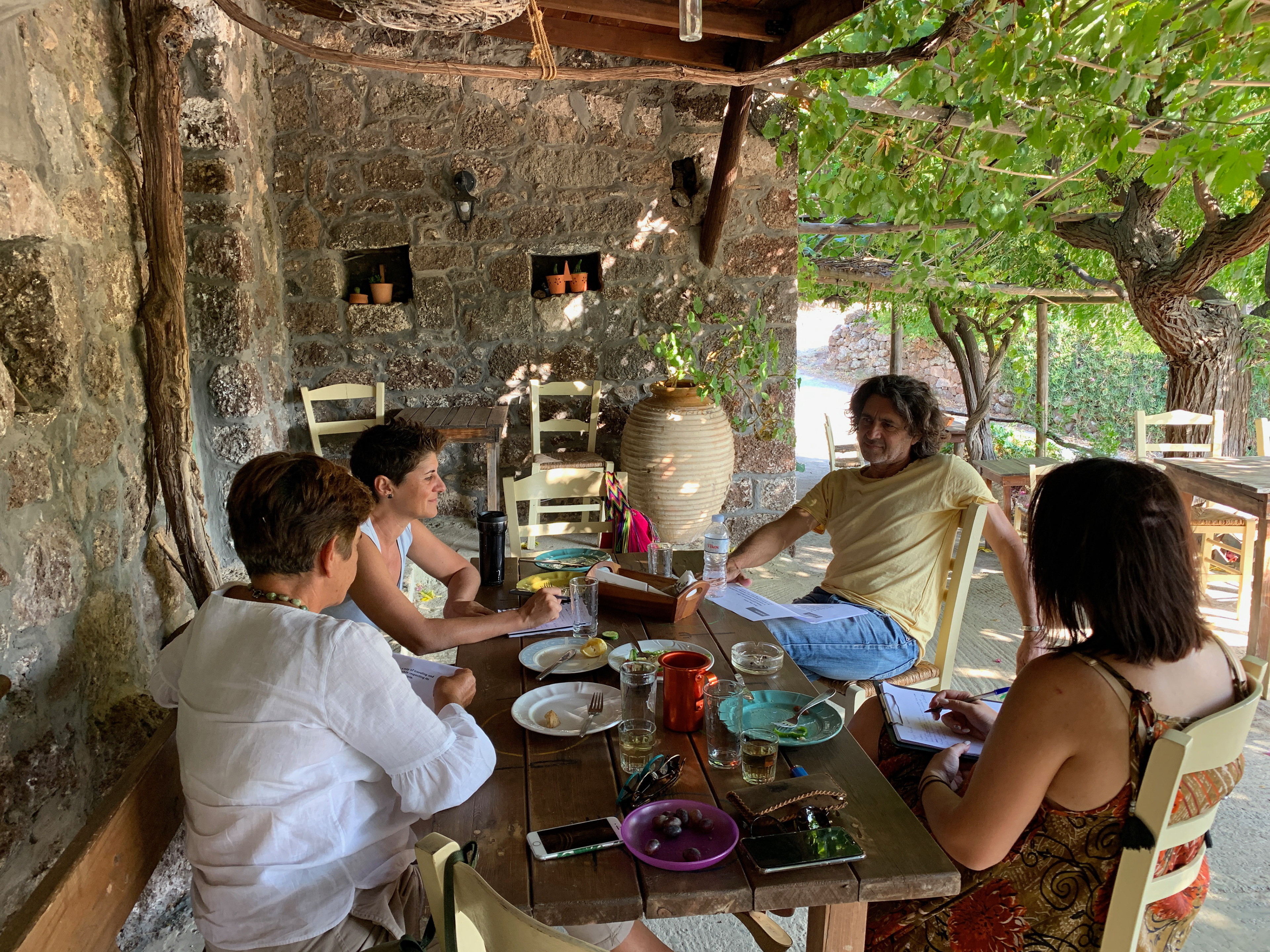 Contextual Inquiry, Analysis & Synthesis
During the Fall of 2020 we set out to analyze data by creating an affinity map. This is a rigorous process of interpreting and considering the underlying significance of each data point. The affinity map represents the voice of the stakeholders, our partners in design.
Out of this work, themes began to emerge about tourism in the area and beyond, the people (locals and tourists), their needs, desires, tasks, and the nature of their problems.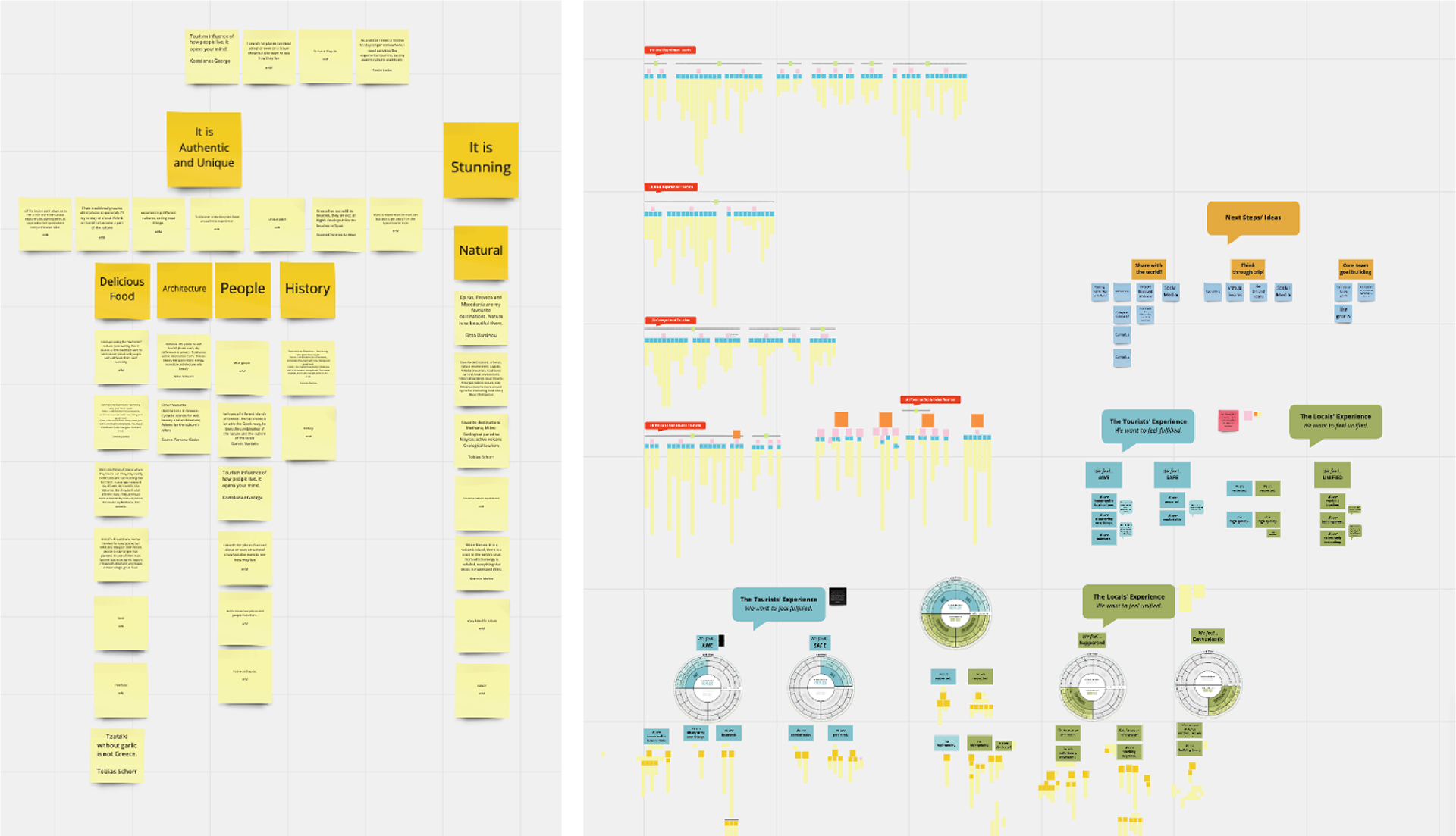 Why focus on sustainable tourism?
1..

One person in every 10 is employed

in tourism-related jobs.
2. Travelers are significantly

more likely to visit destinations and make purchases from travel companies that exhibit on their sustainable practices.
3.

Sustainable travelers

are less price sensitive and

spend 51% more than other travelers.
4. The

sustainable traveler tends to stay 7 days or longer

in a destination as opposed to 3 days for other travelers.
5. Destinations served by ministries of tourism, destination marketing organizations and convention and visitors bureaus are often victims of their own success.

Travelers tend to arrive in increasing numbers and flock to the same locations, resulting in overcrowding, increased stress on public services and infrastructure, cultural homogenization and growing dissatisfaction from residents.
6. Although tourism can be a great form of wealth distribution,

often as little as 5–10% of the money tourists spend remains in the destinations they visit.
7. Nearly 50% of World Heritage sites, which are recognized by UNESCO for their outstanding universal value,

do not have management plans in place to prevent the negative impacts of tourism.
Positive Impact of Tourism
1. Wealth generation for the country and its citizens

2. Economic progression and development of infrastructure

3. Maintenance and protection of natural and cultural attractions 

4. Unity among people of different countries, cultures and ethnicities
Negative Impact of Tourism
1. Damage to the environment through overcrowding, pollution, erosion, habitat degradation and destruction

2. Exploitation of local culture, resulting in a lower quality of life

3. Lack of job security and dependable income (seasonal tourism)

4. Unequal infrastructure growth

5. Foreign ownership (profits sent out of country)

6. Neglect of other economic sectors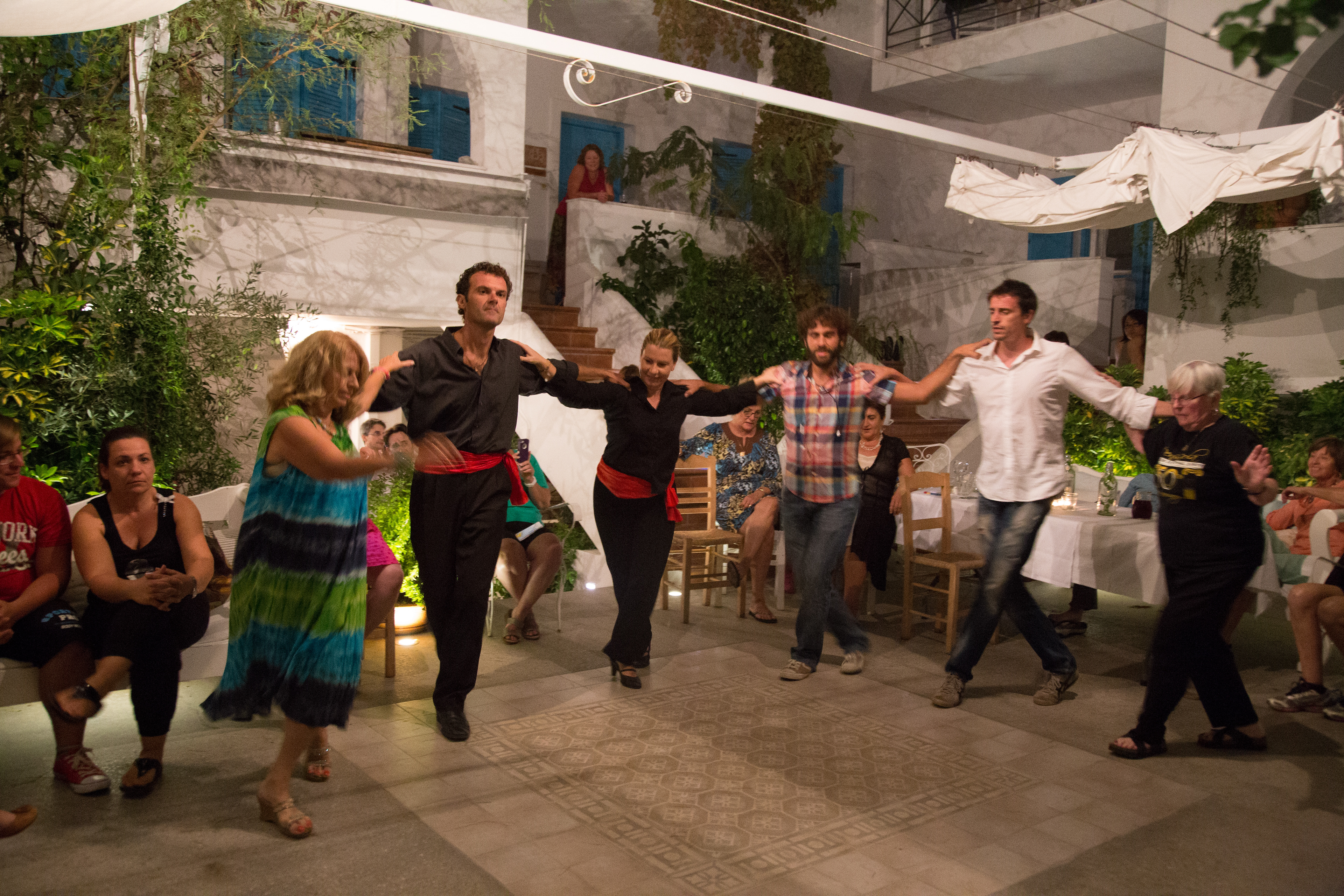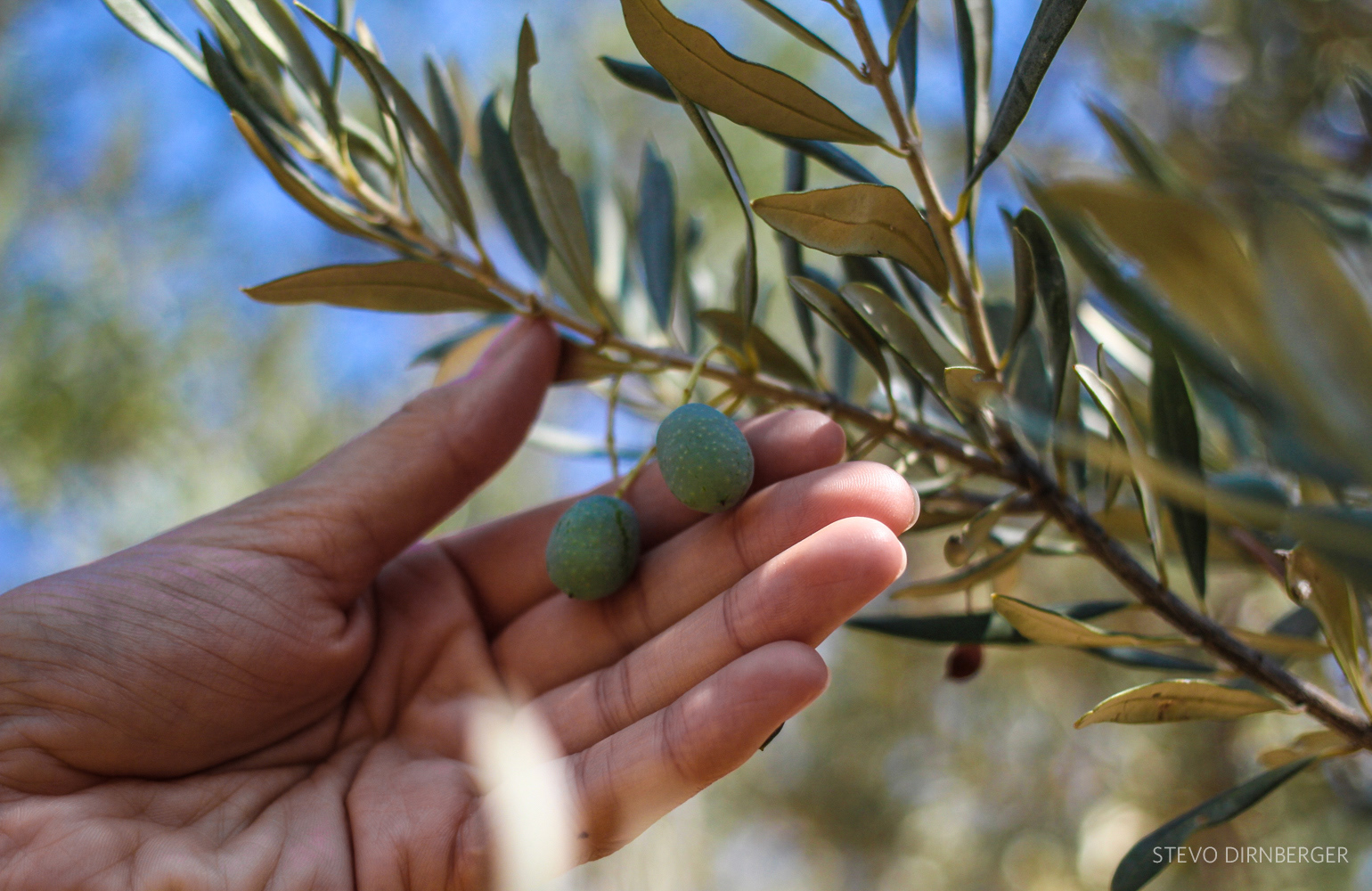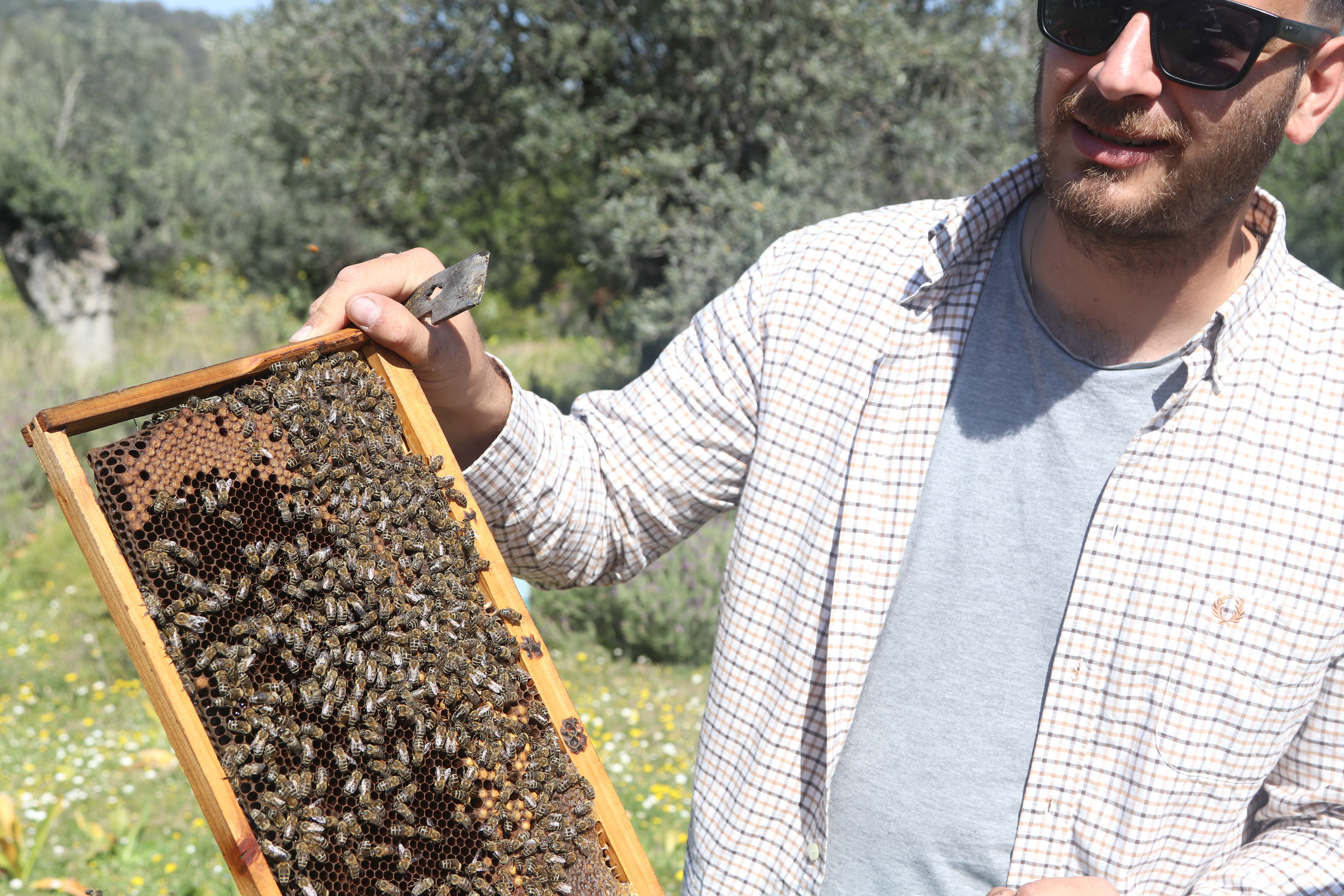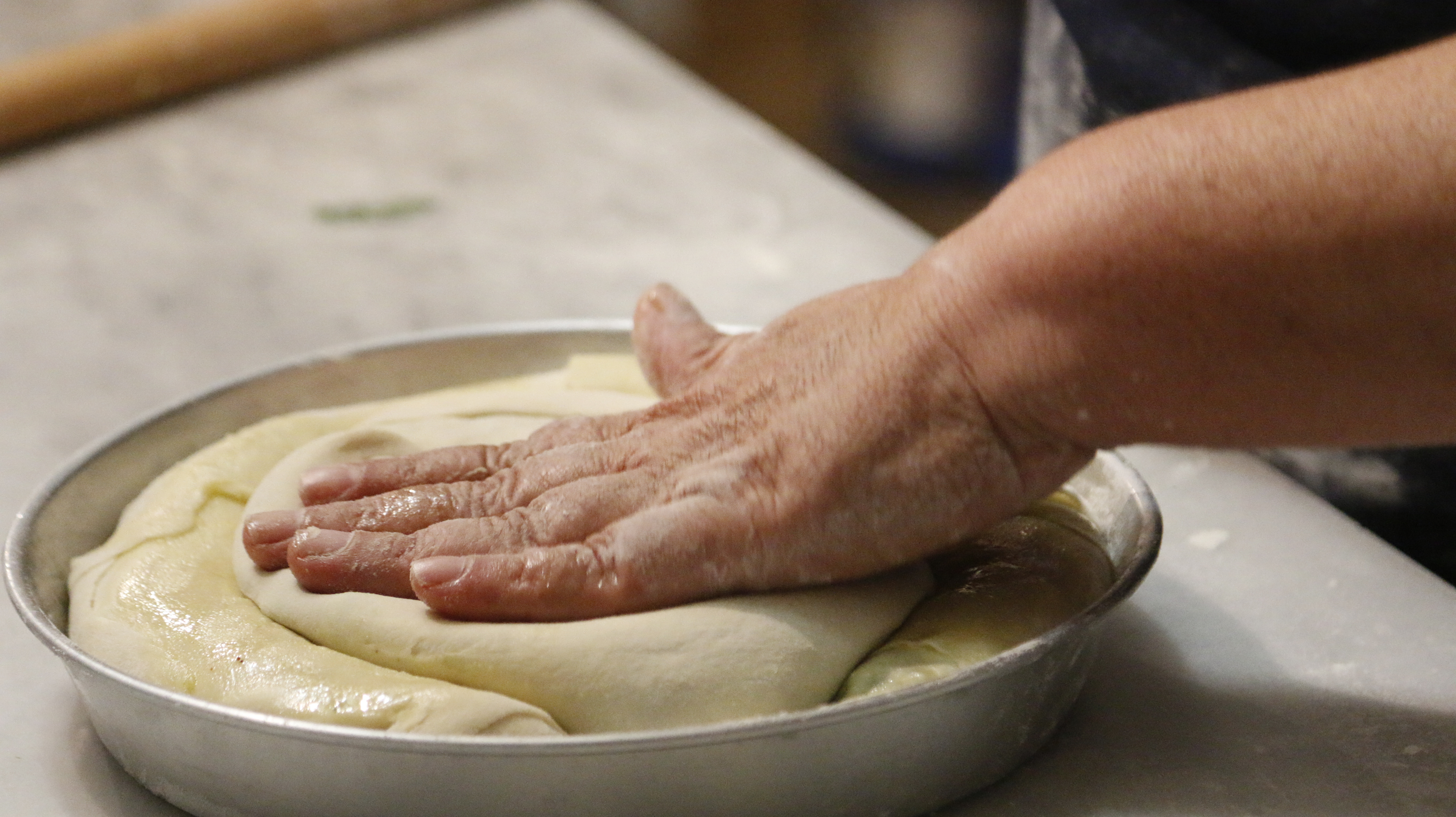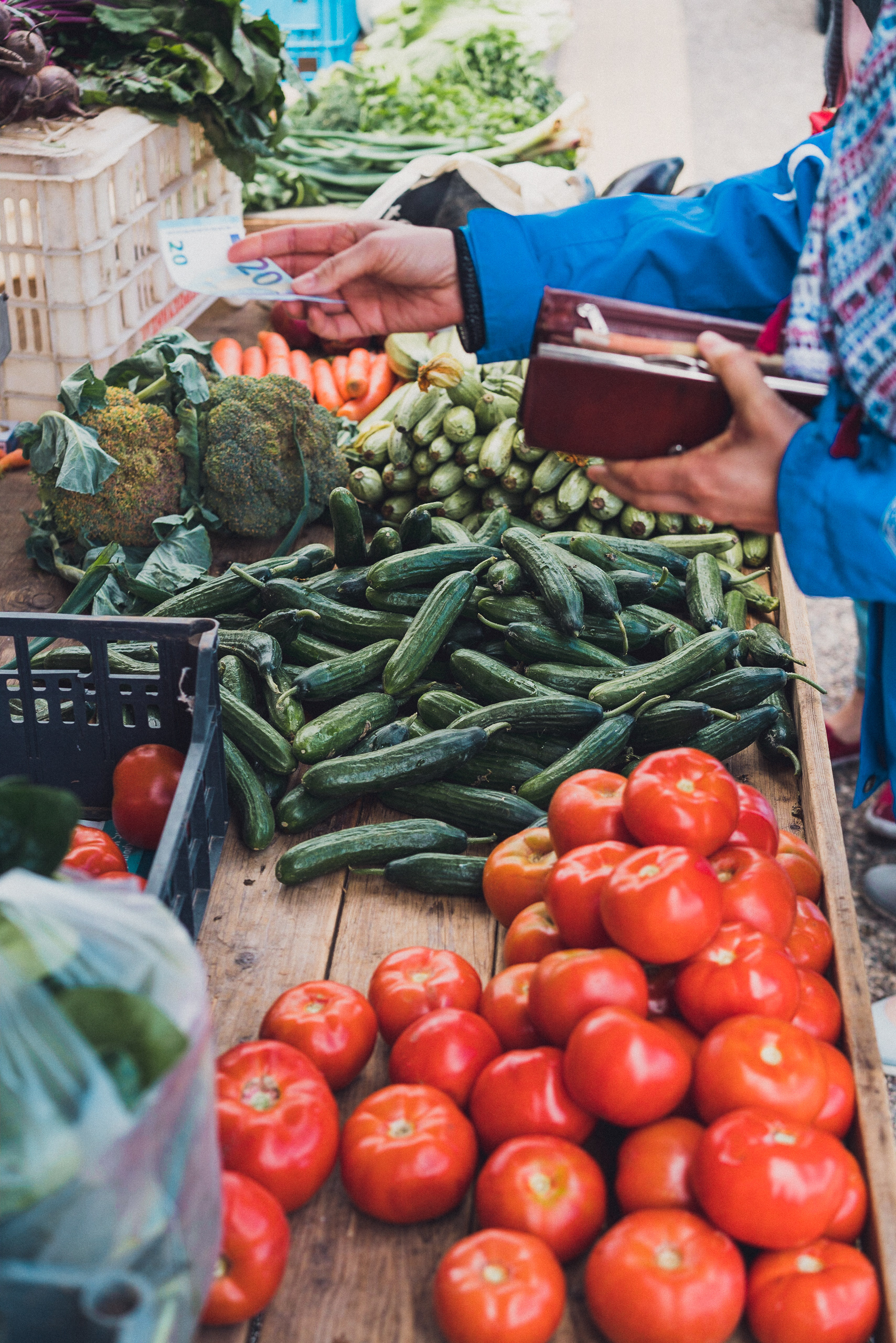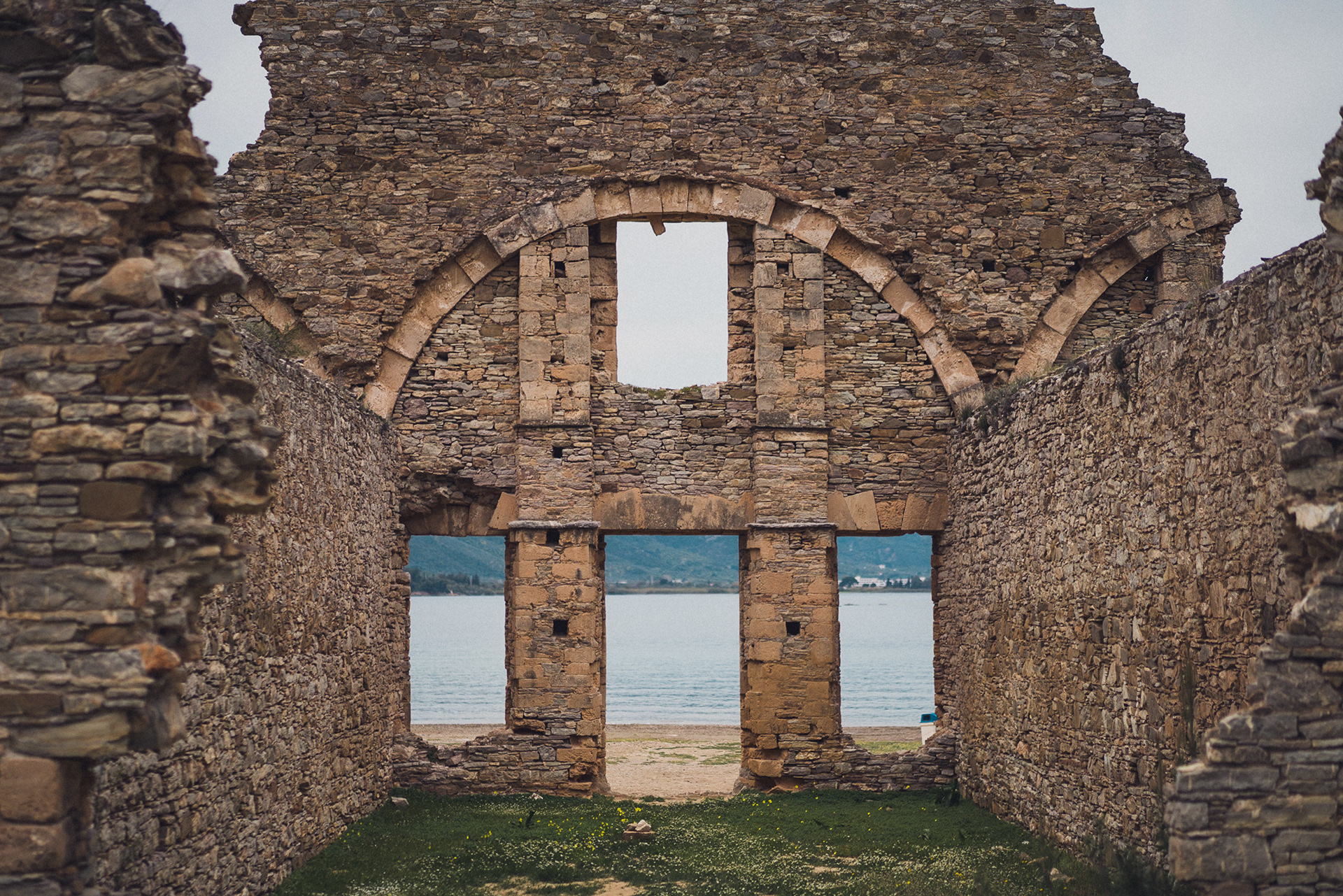 How Sustainable Tourism is Defined
Sustainable tourism means untouched and unaltered.
To us, sustainability involves

visiting places without leaving behind a carbon footprint.

It means leaving everything and every place better than how we found it— in a condition for future generations to enjoy and explore just like we have.

It's making purposeful decisions that benefit today and tomorrow in an effort to meet future needs of the environment and all communities.
Another side of "unaltered" is authenticity. We believe sustainable communities are ones that stay true to their culture and history. This idea even stems from the smallest of details, that when all added together, create an overall, authentic experience. An example of a small detail is using historical typography with symbolic meaning. Walking through a community and seeing this typography used on signage would convey that authenticity much more than a bright neon sign would. 
Sustainable tourism means taking part in the local economy.
Sustainable tourists are conscientious of where they spend money, and prefer to put it into local economies where it benefits locals most. They prefer local businesses, restaurants, hotels/stays, artists, and more over a commercialized hotel chain or souvenir shop.
Sustainable tourists aren't the only ones who prioritize local economies. Sustainable communities do, too. Ideally, there are plenty of local options for tourists to choose from, as well as support and partnership among local businesses and municipalities. In addition to partnership, there is strategy. While communities may want to attract more tourism, it is important for tourism to not overwhelm a region and its resources.
Sustainable tourism means respect for local cultures and customs.
We connect the idea of sustainability to mindfulness. Usually, sustainability makes us think of how one treats the environment. However, it also applies to how one treats people.

It's caring for both physical and cultural environments.

 
• Sustainable tourists are polite to locals and don't cause nuisance or trouble. They also don't cause a lot of noise or disrupt the locals' way of life. 

• Sustainable tourists are respectful of local customs, even if they differ from their own beliefs or way of life. Ideally, they approach these differences with interest and curiosity.

•Sustainable tourists show consideration for locals and their culture by learning the native languages. Even basic words like "please" and "thank you" show others they care.

• Sustainable tourists always clean up after themselves.
Sustainable tourism means taking responsibility for our actions, leading by example, and challenging the status quo.
We believe that in order to make a meaningful shift, we must challenge the status quo and lead by example. For locals this means having an open mind to new partnerships and initiatives. It also means showing pride in their region by working hard to preserve it with care.

The Ideal Experience of Tourists & Locals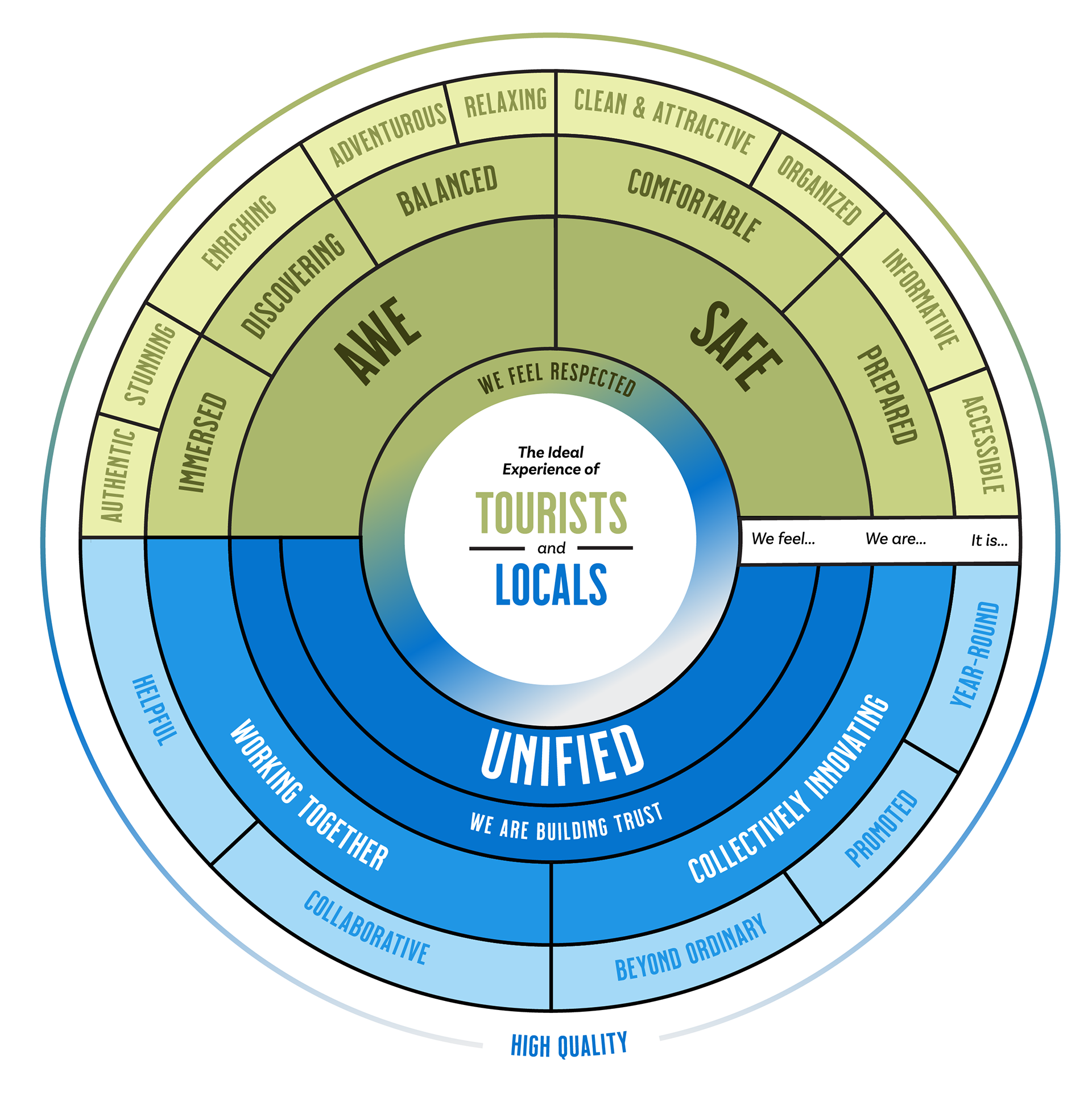 This model outlines the desired experience that tourists and locals want to have when it comes to tourism in Poros and Troizinia-Methana. There are varying levels of the experience, all stemming from their desired emotional experience (Tourists feeling Awe and Safe, Locals feeling Unified). 
To understand what the experience must be like in order to deliver those ideal emotions, we can then explore the additional levels and connections.  
The ideal experience and Anatomy of an Experience is an approach created by Lextant, the human experience firm in Columbus, OH. 
The Ideal Experience of
Tourists
We feel...
AWE

Our ideal experience evokes a true feeling of awe. It's made of
memorable moments that are breath-taking and treasured for years to come
. It's like the feeling we get when standing in front of the Grand Canyon, experiencing something that is bigger than ourselves and unlike anything we come across in our day-to-day lives. We leave feeling like we've opened our minds and horizons and gained new perspectives.
We feel 

AWE
when we are...
Immersed in Local Culture
Discovering New Things
Balanced in Activity

*Please view the full report for more details and insight on how we may deliver the ideal tourist experience through the lens of sustainability.
To feel safe, our ideal experience is organized and clean. We may be traveling alone or with friends and family. Either way,

we want everyone to feel safe both mentally and physically.

There is a lot of behind the scenes effort that we want taken off our plate so that our minds are free to enjoy the beauty around us and make the most of each day.
We feel 
SAFE
when we are...
The Ideal Experience of
Locals
We feel...
UNIFIED

To feel unified, we strive to build support and trust throughout our community.
We aim to bring people together to share resources and cultivate a collective voice.
We feel 

UNIFIED
when we are...
Building Trust

Building trust within the community is a big step in feeling unified. Through engagement and education, we strive to cultivate confidence in our community to invest in tourism.
We feel 

UNIFIED
when we are...
Working Together

Collectively Innovating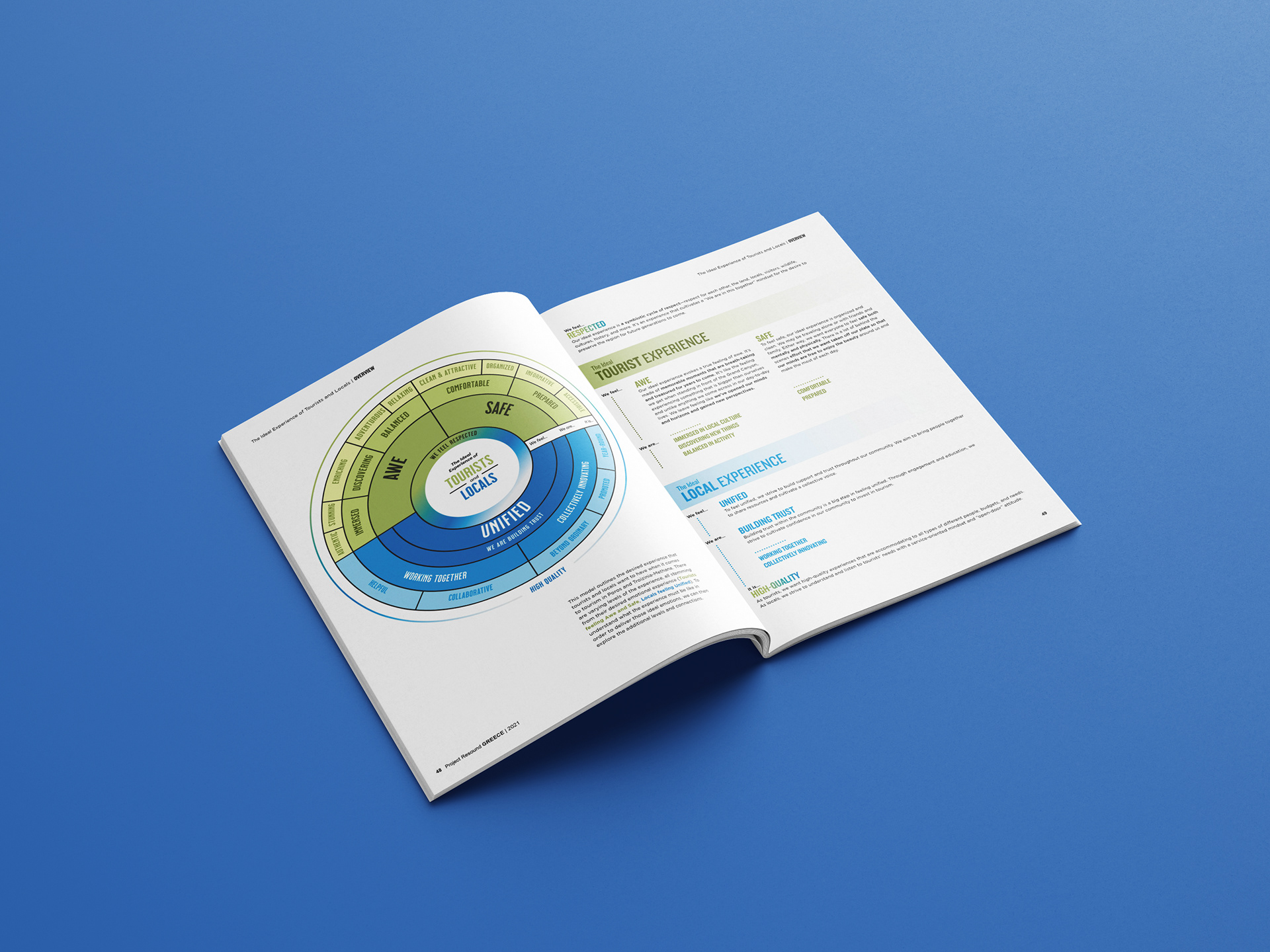 Secondary Research References
Gibbens, S., & Ferrari, C. (2020, April 21). Will the sustainable travel movement survive coronavirus? Retrieved June 04, 2020, from https://www.nationalgeographic.com/travel/2020/04/will-sustainable-travel-survive-coronavirus/


Mullis, Brian. "The Growth Paradox: Can Tourism Ever Be Sustainable?" World Economic Forum, 10 Aug. 2017, www.weforum.org/agenda/2017/08/the-growth-paradox-can-tourism-ever-be-sustainable/.


Soomro, A. (2020, April 22). Tourism; pros and cons, facts and environmental impact. Retrieved March 21, 2021, from https://www.environmentbuddy.com/health-and-lifestyle/tourism-pros-and-cons-facts-and-environmental-impact/